Also:
Trib tops national newspaper education awards
If you're a hungry patient, guest, employee, or visitor to University Hospital on the MU campus, Essentials is, well, essential.
Billed as a "fusion of flavor and health," the new restaurant -- which opened July 2 adjacent to the hospital's main lobby -- is everything Columbia diners expect in a good eatery.
Bright, open, and well-designed, Essentials emulates modern thinking in patient-centered hospital care.
Gone are sterile tile floors and whitewashed walls, replaced by natural woods and gently-filtered sunlight. Gone too is that notorious hospital food. Essentials offers a lunch and dinner menu that, while healthy, doesn't skimp on taste.
I had the roasted vegetable herbed flatbread pizza, a slender, attractive thin crust topped with roasted red peppers, marinated portabella mushrooms, asparagus, red onion, and pesto.
My daughter was torn between a number of sushi offerings and the gourmet grilled chicken breast sandwich she ultimately picked. Herb-marinated chicken, lemon garlic aioli, and fresh spinach leaves on a toasted wheat hoagie doesn't exactly sound like typical teen fare. But she ate it with relish, asking when we might come back!
Though no one wants to be in the hospital, if you're at University Hospital, Essentials should prove a pleasant treat. You can also try a citrus-marinated tilapia with pico de gallo; an Asian salad with sesame-soy dressing; a chicken and artichoke pizza; five other delightful sandwiches; Wasabi coleslaw; roasted vegetable couscous; a variety of stylish beef and turkey hamburgers; a kids menu; and much more.
In this day of sky-high health care costs, the only un-natural part of Essentials is its reasonable prices. No menu item exceeds $6; no beverage exceeds $2. The Essential Burger is a mere $4.99.
Variety, quality, low prices, and friendly staff. Sounds like all the ingredients of a winning health care plan.
TRIB TOPS: National newspaper education awards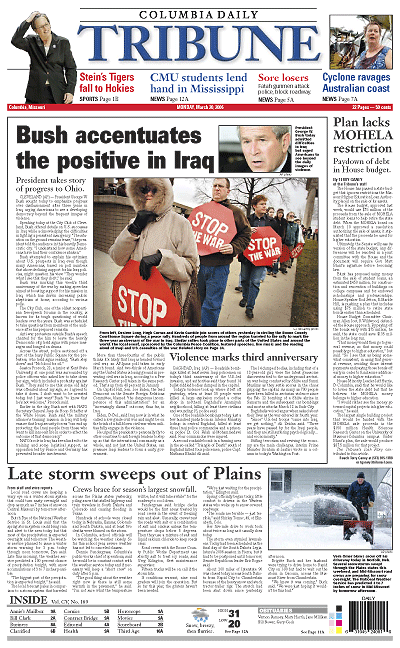 Winning first place honors in three categories -- General Excellence, Marketing, and Sponsorship -- the Trib joined
The Philadelphia Inquirer and the Washington Missourian atop the National Newspaper Association's (NNA) 2010 Newspaper In Education Awards.
The Missouri Press Association, also based in Columbia, topped a list of state news education program awardees, beating New York (2nd place); Kentucky (3rd place); and Ohio (Honorable Mention).
Ironically, the NNA announced in July that it was severing nearly decade-long ties to Columbia, the University of Missouri, and the MU School of Journalism over a failure to reach key agreements with University officials.